We recently returned from a trip to Europe, visiting 5 countries, 10 theme parks, and several Kermesses (Festivals), and rode 82 roller coasters during this whirlwind of a trip. Germany, Netherlands, Belgium, France, & Luxembourg were all amazing countries to visit, with some extraordinarily friendly people, fun rides, and great food!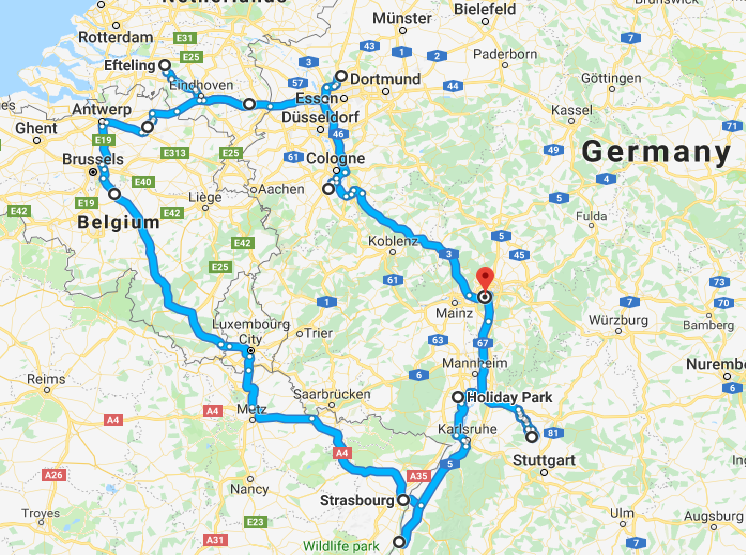 All in all we drove around 2,000 miles (3200 km) around Europe. The driving was quite nice and the scenery was beautiful. Renting a car and driving is completely do-able, but if you aren't big on driving in a foreign country the public transportation in Europe is incredible. A lot of the parks had a train station close by so you could easily do the trip by train, the only thing we were hesitant about was luggage storage while in the park. We flew into Frankfurt Airport (FRA) and left out of Frankfurt Airport.
When traveling through Europe, always check for Karnevals/Kermesse which are giant carnivals/festivals. We came across at least four of them on this trip, all with a bonus roller coaster or two! These carnivals/festivals are incredible with delicious food and wild rides, we even found one with a traveling log ride and one with a traveling river rampage.
Here's the Parks we visited with their address and additional tips that we found at the park:
Phantasialand (Germany) – Website
Address: Berggeiststraße 31-41, 50321 Brühl, Germany
Get here early and go straight to Taron to get in line
Parking is cash only
Schloß Beck Freizeitpark (Germany) – Website
Address: Am Dornbusch 39, 46244 Bottrop, Germany
This is only a short distance from Movie Park and is walkable
Movie Park (Germany) – Website
Address: Warner-Allee 1, 46244 Bottrop, Germany
A parking pass must be purchased inside the park to exit
Efteling Theme Park (Netherlands) – Website
Address: Europalaan 1, 5171 KW Kaatsheuvel, Netherlands
Review the park layout before you arrive and start with a plan of attack
The night before we stayed at the most adorable family owned hotel – website
Tover Land (Netherlands) – Website
Address: Toverlaan 2, 5975 MR Sevenum, Netherlands
A parking pass must be purchased inside the park to exit
The night before we stayed at the another great family owned hotel – website
Bobbejaanland (Belgium) – Website
Address: Olensteenweg 45, 2460 Kasterlee, Belgium
A parking pass must be purchased inside the park to exit
Walibi Beligium (Belgium) – Website
Address: Boulevard de l'Europe 100, 1300 Wavre, Belgium
Start with Impulse, it's low capacity & you'll have all day to dry off
Europa (Germany) – Website
Address: Europa-Park-Straße 2, 77977 Rust, Germany
Give yourself a minimum of 1.5 full days to explore, ride, & eat
We stayed in town at a family owned hotel within walking distance of Europe – website
The family was great and the food at their restaurant was incredible, get the schnitzel
Holiday Park (Germany) – Website
Address: Holiday Park Straße 1, 5, 67454 Haßloch, Germany
A parking pass must be purchased inside the park to exit
Tripsdrill Erlebnispark Park (Germany) – Website
Address: Erlebnispark Tripsdrill, Straße 1, 74389 Cleebronn, Germany